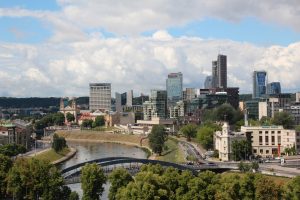 Lithuania is to establish a blockchain-based system for overseas businesses to remotely register and manage their company in the EU.
The plan, which would allow 'Virtual Limited Liability Companies' to gain access to Lithuania's innovation-friendly sandbox regulatory system, is endorsed by the country's central bank.
Marius Jurgilas, a member of the board of the Bank of Lithuania, says: "Bank of Lithuania is already building LBChain – blockchain-based solutions accelerator for fintechs. Initiative to create virtual companies on blockchain is a move towards even more ambitious goal – creating LTChain, i.e. moving relevant public services on blockchain."
The ability to remotely establish and manage a company in the EU is on the wish-list of many fintech companies. Analysts from Invest Lithuania, a foreign direct investment and business development agency, believe companies from Singapore, the US, Israel and other non-EU locations would all be interested in such a service.
"As the world is moving towards a paper- and bureaucracy-free future, jurisdictions that adapt to the increasing demand for instant solutions will win in the long run," says Mantas Katinas, managing director of Invest Lithuania. "As of now, the country already offers fintech companies the ability to receive a payments institution (PI) or e-money institution (EMI) license in just three months, which is 2-3 faster than in other EU countries. These draft proposals on the possibility of establishing a virtual company which can be managed remotely is another step in the right direction."
The new breed of VLLCs could range from small companies owned by a single individual to large corporations with publicly-traded shares and other securities, says Katinas. They would be fully-recognised corporate entities under Lithuanian law and would file financial statements and pay taxes in Lithuania.
If the necessary amendments to the legal framework are made, entities from around the world would be able to register virtual companies in Lithuania as early as 2019.
Source: https://www.finextra.com/newsarticle/31958/lithuania-to-establish-blockchain-based-share-register-for-non-eu-companies